Sea Frost Baitfreezer Systems
The Sea Frost Bait Freezers (BF series) are 110 or 220 volt A.C. powered compressor systems capable of maintaining an insulated cabinet at freezing temperatures when operating from a continuous power source. BF units are available with ducted air cooling, air and water cooling, and water cooling only (SA4). The system is connected via copper lines to the boat's insulated cabinet fitted with our 1/2" thick stainless steel direct evaporator plates or with a hidden coil wrapped box (if the installation is new construction). The temperature is controlled with a digital, low-voltage thermostat.
Compact
Bulkhead or Shelf Mounted
Marine Grade Materials
Low Voltage Digital Thermostat Circuit
Custom Sized Stainless Steel Direct Evaporator Plates
Adaptable for Catch Box Chiller or Galley Refrigerator/freezer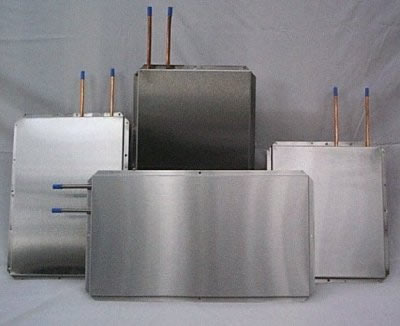 Custom Stainless Steel Plates
Bait Freezer plates are a polished stainless steel, direct evaporator design. The typical freezer installation requires two plates. Plates are 1/2" thick with sealed backs and are available in custom sizes with stainless steel, copper-nickel, or copper refrigerant tubes.
Custom Stainless Steel Plates - Fully Welded
These plates are 1/2" thick and fully welded with stainless steel tubing. This allows them to be used in applications where the plates are in contact with salt water.
Line Sets
Liquid Line with Constant Pressure Valve, Drier and Quick Connect Fittings

Insulated Suction Line with Quick Connect Fittings

Custom Line Lengths

Stainless Steel Flex Lines with Swagelok Ends

Custom Lengths Available

Jumper Lines with Quick Connects for two plate systems

Custom Lengths and Configurations Available

Ranco Digital Thermostat
Available Condensing Units (Cabinet)
Click on heading below for PDF data sheet.

BF1
BF2
BF3
BF3.5
BF5
Voltage
110
220
110
220
110
220
110
220
110
220
Amp Draw (Run)
4
1.5
4
1.5
5.5
2.5
6
3
7
3
Locked Rotor
30
10.3
30
10.3
42
15
42
15
53
19
Horsepower
1/4
1/4
3/8
3/8
1/2
Height
16"
16"
16"
16"
16"
Width
14-1/2"
14-1/2"
14-1/2"
14-1/2"
14-1/2"
Depth
7-1/2"
7-1/2"
7-1/2"
7-1/2"
7-1/2"
Cooling
Air
Air & Water
Air & Water
Air & Water
Air & Water
BTU/HR
635
635
1100
1044
1350
Refrigerant
134a
134a
134a
404a
134a
Pre-Charged
yes
yes
yes
yes
yes
yes
yes
yes
yes
yes
Condensing Unit Weight
36
36
42
42
46
49
46
46
50
50
Systems are also available as a low profile flat with a remote electrical panel.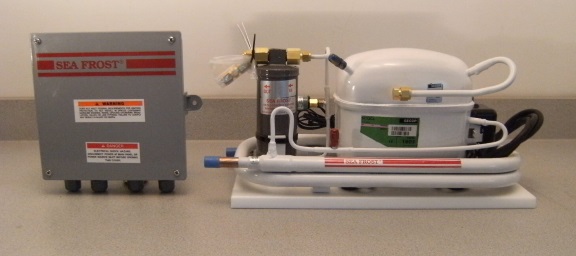 Available water cooled flat models
Click on heading below for PDF data sheet


SA1 Flat

SA2 Flat

SA3 Flat

SA3.5 Flat

SA4 Flat

SA5 Flat
Voltage
110
220
110
220
110
220
110
220
110
220
110
220
Amp Draw (Run)
2.02
1
4
1.5
5.5
2.5
5.6
2.6
7
4
7
3
Locked Rotor
14.2
5.1
30
10.3
42
15
42
15
42
19
53
19
Horsepower
1/8
1/4
3/8
3/8
1/2
1/2
Height
9.25"
9.25"
9.25"
10.50"
10.50"
10.50"
Width
8"
8"
8"
8.25"
8.25"
8.25"
Depth
16"
18"
20"
20"
20"
20"
Cooling
Water
Water
Water
Water
Water
Water
BTU/HR
500 @-10
716 @-10
Refrigerant
134a
134a
134a
404a
404a
134a
Pre-Charged
no
no
no
no
no
no
no
no
no
no
no
no
Compressor Weight
27
27
35
35
44
44